Many of you already know me from the forum as Transporter but you probably don't know that I'm also VWWatercooled news correspondent.
A bit about me, I completed trade school in 1981 as a diesel mechanic and have been around cars and trucks since. Today, I run my own business MRL Automotive (established in 1994), specialising in servicing and repairs.
I like cars, everything mechanical and enjoy reading technical articles about automotive technology. In 2004 I bought my first Volkswagen.
So, what is so special about the VW car? Well, every new VW car comes with an added bonus - that smile on your face when you drive your VW car. I hope that smile is still there when you come to VWWatercooled for information or just a chat. I'm sure that you'll find what you're looking for and if not then there are a plenty of enthusiasts that will try to help.
The world's longest manufactured car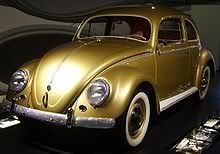 The jeweled one millionth Beetle
The Volkswagen car company has come a long way to be the World's # 1 manufacturer in 2010; from the Volkswagen Beetle which was produced from 1938 to 2003 with over 21.5 million of them built. The Beetle has become the world's longest manufactured car using the same platform.
Picture reference:
http://en.wikipedia.org/wiki/Volkswagen_Beetle