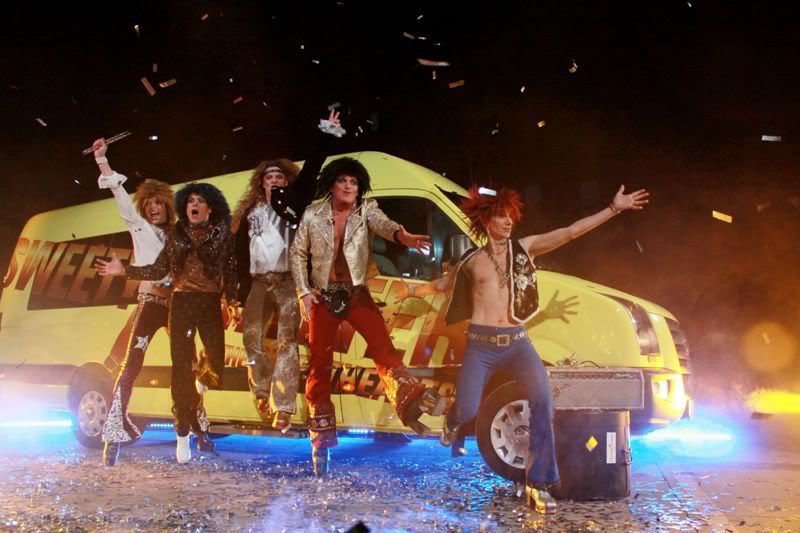 Volkswagen Commercial Vehicles presents 3-dimensional pictures of new cult car
Hanover, 9th February 2011. In the music scene the Multivan is one of the all-time favourite touring vans. Sports teams love the Caravelle and surfers really go for the Transporter because they pack so much space in the rear. But what do bands do if they want to tour from gig to gig with all band members and all their equipment in one vehicle? Up to now, there was no perfect solution for this target group. But that has all changed now: the Crafter Bandbus from Volkswagen Commercial Vehicles is here.
This cult vehicle was developed by the division which handles all commercial vehicles that are fitted special-purpose extras after production.
The company has been thinking of building a bandbus for many years. Then last year, the band called "Sweety Glitter and the Sweethearts" from Braunschweig in Germany called – their old bandbus, which they had christened "Maggie", gave up the ghost and a replacement was sorely needed.
But the rockers from the region did not want any normal vehicle. They had a long list of special needs. It should have enough space for one driver and seven other persons sitting opposite each other. In between the passengers they wanted a foldaway table. The ideal solution would also give passengers enough headroom to stand up inside the vehicle. They also requested a flexible sliding partition wall behind which there should be enough stowage space for instruments, amplifiers and various hard cases for equipment.
That's how a joint project came about during which the band and manufacturer jointly built a tailor-made vehicle.
A decent sound system was just as vital as a navigation system and air conditioning. Of course there had to be enough storage compartments and oddments trays, adjustable reading lights at every seat, luxury seats with backrests that can be lowered into sleeping position, additional power sockets for laptops and lashing rails to attach cases and boxes safely. In short: the final result should be a genuine Bandbus that contained everything a band would ever need on tour.
"The request was to pack everything in one vehicle," explains Nils Behrens from Commercial Vehicles Sales and in charge of implementing this challenging idea.
After some experimenting a solution was found. The manufacturer selected a base model: a bright yellow Crafter with long wheelbase, making the vehicle 7.30 metres in length. Sufficient standing room inside the Bandbus meant choosing the high roof version that provides a headroom of 2.70 metres.
To implement the sliding partition wall, the commercial vehicle specialists opted for a floor rail system. This allows the flexible rear partition to move to the rear or to the front depending on whether more space is required for passengers or for equipment. At the rear there is also an auxiliary heater to keep the musicians warm when they board the vehicle soaked through with sweat; and under the sliding door there is an extra metal strip to attach additional seats at the rear.
"Now the Bandbus is just what we were looking for," says Stefan Jahnke, manager of Sweety Glitter.
Nikolai Georgiew, star photographer and director from Hanover, set the perfect scene for the Bandbus in the submarine hangar on the Hanomag grounds in Hanover last Tuesday. He used a spectacular new system from the USA called Timemorph.
He set up 64 cameras on a semicircular scaffold all around the Bandbus and the band. This produces 3-dimensional image files which allow spectators to view the object from all sides.
In addition, the motifs for PR purposes were also used to generate holographic maps which depict the Bandbus as motif.
"This is a totally new method of photography, a new art form that moves from image to film and opens up completely new possibilities of making motifs accessible to the viewer," explains Georgiev who used this technique for the first time for Volkswagen Commercial Vehicles.